Purposes, Powers and Functions of USHA
Release Date:
August 1938 (12 pages)
Posted Date:
July 9, 2020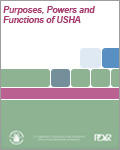 This historic report, prepared by the U.S. Housing Authority's Division of Research and Information, details the history, purpose, powers, and functions of the USHA. Established by the United States Housing Act of 1937, the USHA was concerned primarily with assisting states and localities in providing low-rent housing and eliminating slums.

This report is part of the collection of scanned historical documents available to the public.