Rapid Re-housing in 2018: Program Features and Assistance Models Understanding Rapid Re-housing
Release Date:
November 2019 (69 pages)
Posted Date:
February 19, 2020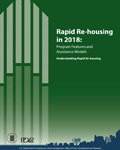 The Understanding Rapid Re-housing study seeks to shed light on the current state of rapid re-housing (RRH) with regard to participant experiences as well as program practices in different types of communities. To carry out the study, Abt Associates is synthesizing the current body of research available on RRH, conducting new analyses of existing data, and collecting new data to analyze current RRH program designs and households' experiences using RRH assistance. The report included here, "Rapid Re-housing in 2018: Program Features and Assistance Models" is a community scan that uses newly collected data from surveys administered to CoCs and RRH programs along with in-depth interviews with 20 RRH programs to describe key features of RRH programs across the nation. This report found that while rental assistance structure and duration of assistance varied considerably, most programs reported using progressive engagement, and in tight markets more than half of RRH programs paid participants' entire rent, then transitioned to paying a portion of their rent.
In addition to the paper, the 2018 RRH Data Repository linked below is a data tool that combines newly collected survey data from CoCs and RRH programs with data from secondary data sources to provide the first comprehensive documentation of RRH programs nationwide. The repository has a dashboard with a query function that allows users to select options such as state, housing market cost (e.g., high, moderate, or low cost), and/or target population to find specific statistics for selected characteristics.
Additional Resources:
RRH Repository Dashboard Instructions (*.pdf)
RRH Repository Data Dictionary (*.xlsx)
RRH Repository Dashboard (*.xlsb)
Click here to access the Understanding Rapid Re-housing study page.