Rapid Growth from Energy Projects – Ideas for State and Local Action, A Program Guide
Release Date:
March 1976 (35 pages)
Posted Date:
May 13, 2019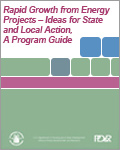 U.S. Department of Housing and Urban Development; Federal Energy Administration Intro text: This historic document, produced by HUD's Office of Community Planning and Development in cooperation with the Federal Energy Administration, addresses strategies for managing growth in an area affected by a major energy project. The publication discusses typical energy projects and their impacts, and suggests means by which a locality may respond to changing housing and infrastructure needs, seek monetary or technical assistance, and mitigate negative impacts. The guide includes four case studies.

This report is part of the collection of scanned historical documents available to the public.