Recommendations for Design and Construction of Low-Rent Housing Projects
Release Date:
June 1947 (31 pages)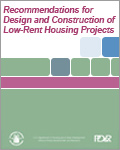 This historic publication, written by the Local Housing Authority Maintenance Superintendents of Region II for the consideration of the National Housing Agency's Federal Public Housing Authority, provides recommendations for the siting, design, construction, and maintenance of low-rent housing projects. The recommendations were produced at the 1946 Annual LHA Maintenance Conference, held in June 1946 at the Hotel New Yorker in New York City.

This report is part of the collection of scanned historical documents available to the public.