Reconstruction Finance Corporation and Federal Housing Loans for Municipal and Flood Relief
Release Date:
April 1936 (29 pages)
Posted Date:
June 16, 2020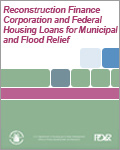 This historic report, prepared by the Senate Committee on Banking and Currency, describes a hearing before a subcommittee of this body regarding three bills pertaining to flood relief and reconstruction loans. The bills discussed are S. 3909, S. 4328, and S. 4396. The bills cumulatively address the issuance of loans to cities and individuals in the wake of certain natural disasters, the amendment of the National Housing Act to provide flood relief, and the authority of the Reconstruction Finance Corporation to issue rehabilitation loans.

This report is part of the collection of scanned historical documents available to the public.