Reducing the Cost of Floor Systems in Modular Homes
Release Date:
November 1994 (31 pages)
Posted Date:
February 2, 2021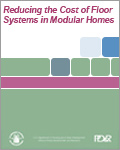 This historic report, prepared for HUD's Office of Policy Development and Research by the National Association of Home Builders' research arm, discusses approaches to reducing the cost of floor systems in modular manufactured homes. The authors posit that the use of a slab-on-grade foundation confers cost savings of over $5,000 compared to a crawl space or basement foundation, and that these savings can be compounded with the use of additional building techniques, such as using floorless upper box models to eliminate redundant floor-ceiling assemblies.

This report is part of the collection of scanned historical documents available to the public.