Rehabilitating Rental Housing: the Benefits and Costs of Alternative Approaches
Release Date:
December 1984 (186 pages)
Posted Date:
February 3, 2021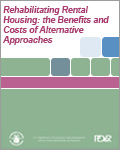 This historic report, prepared by the Office of Policy Development and Research's Division of Policy Studies, examines the rental rehabilitation efforts of 18 sample localities. The selected localities utilized a variety of federal programs to rehabilitate more than 350 properties between them.

This report is part of the collection of scanned historical documents available to the public.