Rehabilitation Record: No more architectural barriers
Release Date:
December 1961 (9 pages)
Posted Date:
September 13, 2018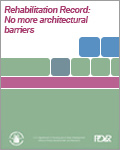 This historic document is a record of two articles about accessible architecture, published in a 1961 issue of the journal Rehabilitation Record. The first article, Opening Public Buildings to the Handicapped, is by architect Leon Chatelain, Jr. The second article, Model Home for the Disabled, is by Institute of Physical Medicine and Rehabilitation consultant Muriel E. Zimmerman. Both discuss design and building standards necessary to render buildings accessible to persons with disabilities.

This report is part of the collection of scanned historical documents available to the public.