Rehabilitation Supplement to the Rental Housing Manual
Release Date:
April 1940 (62 pages)
Posted Date:
December 17, 2020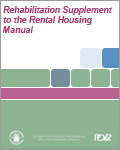 This historic manual provides FHA employees with guidance regarding carrying out rehabilitation projects on rental properties. The publication includes information regarding the filing of forms, the hiring of contractors, and other administrative considerations.

This report is part of the collection of scanned historical documents available to the public.