Removing Regulatory Barriers to Affordable Housing: How States and Localities are Moving Ahead
Release Date:
December 1992 (94 pages)
Posted Date:
January 27, 2021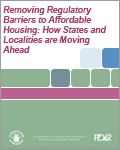 This historic report describes the diverse means by which states and localities have made regulatory changes to reduce the cost of housing. The publication begins with an introduction to the concept of regulatory barriers — a premise which largely entered public consciousness following the 1991 report, "Not In My Back Yard": Removing Barriers to Affordable Housing" — and proceeds by profiling the efforts of 17 states and inter-state compacts. The report also details the cases of 13 local bodies that modified ordinances or regulations in order to advance affordable housing.

This report is part of the collection of scanned historical documents available to the public.