Rent Burden in the Housing Choice Voucher Program
Release Date:
October 2017 (49 pages)
Posted Date:
October 10, 2017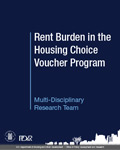 This report examines trends in housing cost burden for Housing Choice Voucher (HCV) participants between the years of 2003 and 2015. Cross-sectional data in each of these years is analyzed and a cohort analysis is conducted of those participants who initially leased a unit in 2003 or 2008. The study finds that housing cost burdens for HCV participants have risen since 2003, and the year-to-year changes in housing cost burden roughly approximate trends in the recent housing market cycle and that housing cost burdens have been particularly high for those earning the lowest incomes.