Rental Rehabilitation Program Review
Release Date:
July 1990 (31 pages)
Posted Date:
December 9, 2020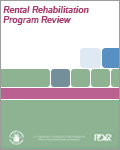 This historic report is a review of the Rental Rehabilitation Program, a federal grant program authorized by the Housing and Urban-Rural Recovery Act of 1983. The program provided grants to cities, counties, and states to finance the rehab of privately-owned rental housing in neighborhoods where market rents for rehabilitated units were not expected to exceed Section 8 Fair Market Rents. The purpose of this program was to increase the supply of adequate, affordable rental housing units. All data from New York City was excluded from this program review. The review found that nearly all of the rehabilitated rental units began as affordable units prior to rehab, remained so after rehab, and were projected to continue to remain affordable.

This report is part of the collection of scanned historical documents available to the public.