Report of Roundtable Discussion: Internal Organization and Staffing of Local Authorities
Release Date:
July 1937 (8 pages)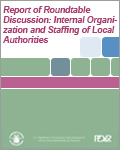 This historic report provides an account of a roundtable discussion on the topic of the organization and staffing of local housing authorities. The discussion took place at NAHO's 1937 annual meeting in Cleveland, Ohio. George Gove, secretary of the New York State Board of Housing, chaired the discussion, while T.T. McCrosky, executive officer of the Municipal Housing Authority of the City of Yonkers produced the report. The eight-page document includes a summary of points discussed and positions adopted by individual members, who are identified by name and position.

This report is part of the collection of scanned historical documents available to the public.