Research Summaries
Release Date:
January 1978 (20 Pages)
Posted Date:
December 17, 2018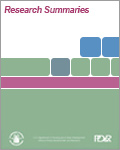 This historical document is a collection of 14 research summaries produced by the Office of Policy Development and Research for HUD-funded research projects completed during the 1970s. These summaries were produced in order to disseminate information about completed research publications, to describe the physical characteristics of each publication, and to provide instruction on obtaining full reports.

This report is part of the collection of scanned historical documents available to the public.