Residential Solar Data Center MIRADS User's Guide
Release Date:
October 1980 (140 pages)
Posted Date:
May 23, 2019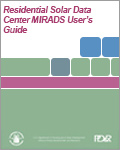 This historic publication, prepared by the Residential Solar Data Center for HUD's Residential Solar Demonstration Program, provides instructions for the use of the Marshall Information Retrieval and Display System (MIRADS). This guide was written to supplement the MIRADS User's Manual published by NASA, and to provide database-specific information to researchers working with the Solar Data Base.

This report is part of the collection of scanned historical documents available to the public.