Sanitary Services and Practices for Low-Rent Housing Developments
Release Date:
January 1943 (32 pages)
Posted Date:
April 24, 2020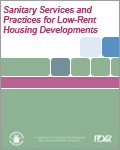 This historic report about sanitation and cleanliness in affordable housing developments was prepared for the NHA's Federal Public Housing Authority by sanitary engineer consultant George A. Soper. The document establishes standards for health and sanitation, and reviews various waste disposal strategies and their suitability for low-rent developments.

This report is part of the collection of scanned historical documents available to the public.