Selecting the Baseline Sample of Residential Properties: Site I
Release Date:
March 1977 (115 pages)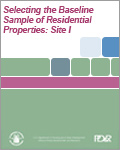 This historic working note details the procedures used to select the baseline sample of residential properties in Site I (Brown County, Wisconsin) of the Housing Assistance Supply Experiment (HASE), and describes the resulting sample of 5,039 properties, stratified by location, tenure of resident, number of housing units, and rent or market value. The selection process took place between January 1973 – October 1973. HASE, the second component of HUD's Experimental Housing Allowance Program, was a program to test the market impacts of providing housing allowances to low-income households in Brown County, Wisconsin and St. Joseph County, Indiana.

This report is part of the collection of scanned historical documents available to the public.