Site Selection for Temporary War Housing
Release Date:
April 1943 (20 pages)
Posted Date:
June 23, 2020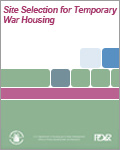 This historic bulletin describes FPHA criteria for siting temporary war housing projects. The document provides instruction for evaluating prospective sites by factors such as physical characteristics, availability of utilities at a prospective site, proximity to military or war production sites, availability of civic and welfare facilities, and more.

This report is part of the collection of scanned historical documents available to the public.