Soil PVC Meter – A Technical Studies Report
Release Date:
December 1960 (110 pages)
Posted Date:
December 9, 2020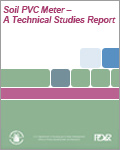 This historical report provides technical details on the workings, and background information on the invention, of the FHA Soil PVC Meter. The Soil PVC Meter is a device to measure the expansion and contraction of certain clay soils, which was developed through the FHA's Technical Studies Program by soil engineer Dr. T. William Lambe of the Massachusetts Institute of Technology. This publication includes Dr. Lambe's original report.

This report is part of the collection of scanned historical documents available to the public.