South Village Slum Clearance Plan Under Title I of the Housing Act of 1949
Release Date:
January 1951 (28 pages)
Posted Date:
October 1, 2019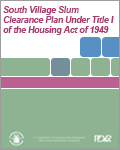 This historic report, prepared for Mayor Impellitteri and the New York City Board of Estimate, details the planned slum clearance and redevelopment of South Village. An approximately 14.5 acre area in the borough of Manhattan, the South Village redevelopment area was located immediately adjacent to the Houston Houses housing project. The Committee recommended that no action be taken regarding the contents of the report until a suitable private developer could be identified. This report is the second in a series of eight.

This report is part of the collection of scanned historical documents available to the public.