Study of Federal Financial Assistance to Victims of Flood Disasters
Release Date:
November 1963 (7 pages)
Posted Date:
June 16, 2020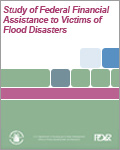 This historic report, prepared by the Senate Committee on Banking and Currency, describes a proposed study examining methods of providing financial assistance to victims of future flood disasters. The report summarizes previous legislation on the topic of financial assistance to victims of flood disasters, outlines the study, and provides additional details regarding the legislative process involved in the amendment, passage, and adoption of S. 2032. S. 2032 is identical to S. 3066, a bill passed by the Senate in 1962 which did not successfully become law.

This report is part of the collection of scanned historical documents available to the public.