Summer in New York – 1965: Analysis of Summer Programs Carried Out with Anti-Poverty Funds
Release Date:
January 1966 (35 pages)
Posted Date:
June 19, 2019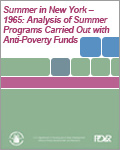 This historic report provides an account of New York City's Summer Programs of 1965. The Summer Programs were a series of 32 recreational programs targeted to young adults living in poverty in the city. The programs, which were intended to serve the aims of the larger War on Poverty, were funded by a federal grant issued as a consequence of the 1964 Economic Opportunity Act.

This report is part of the collection of scanned historical documents available to the public.