Technical Specifications for Utilities Serving Defense Housing Prefabricated Demountable Houses
Release Date:
December 1941 (105 Pages)
Posted Date:
November 13, 2018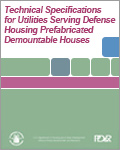 This historical document, published by the Division of Defense Housing at the Federal Works Agency, provides technical specifications for utilities serving defense housing produced under the Lanham Act. The document describes the appropriate water, sewer, gas, and electrical connections for a given unit, and provides guidance on site preparations including the installation of walkways and roads.

This report is part of the collection of scanned historical documents available to the public.