Technological Research in Residential Rehabilitation in the United States – An Overview
Release Date:
February 1974 (32 pages)
Posted Date:
January 15, 2021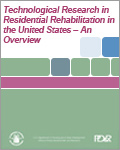 This historic text discusses the history of federal interest in residential rehabilitation from the early 1930s to the mid-1970s, with an emphasis on large-scale projects undertaken since 1963 and the technological experimentation associated with those endeavors. Author James R. Simpson describes several specific experimental rehabilitations, including a 48-hour rapid rehabilitation project that took place on East 5th Street in New York City in 1967.

This report is part of the collection of scanned historical documents available to the public.