Tenant Newspapers
Release Date:
April 1945 (14 pages)
Posted Date:
June 9, 2020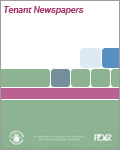 A historic bulletin prepared for use by public housing management, this document provides information regarding the organization of tenant-sponsored and published project newspapers. The document discusses the benefits of a tenant newspaper, the interests of management in encouraging such projects, and the practical considerations involved in starting, staffing, naming, printing, duplicating, and distributing a newspaper.

This report is part of the collection of scanned historical documents available to the public.