Tenth Annual Report: 1st April, 1965 – 31st March, 1966
Release Date:
January 1966 (61 pages)
Posted Date:
November 18, 2019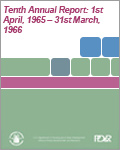 This historical publication is a ten-year report from the Housing Authority of Barbados. The report details the duties, activities, and finances of the housing authority. Barbados obtained full independence from Britain in 1966.

This report is part of the collection of scanned historical documents available to the public.