The Costs of HUD Multifamily Housing Programs, Volume 2
Release Date:
May 1982 (170 pages)
Posted Date:
July 2, 2020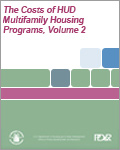 This historic report, prepared for HUD by Urban Systems Research & Engineering, Inc, reviews and compares the costs of a number of major HUD programs. This document is the second of a two-volume set, and lists appendices for the report found in the first volume.

This report is part of the collection of scanned historical documents available to the public.