The Livability Problems of 1,000 Families
Release Date:
October 1945 (74 pages)
Posted Date:
January 14, 2021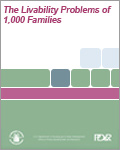 This historic report relays the methodology and results of a study that examined 1,062 families living in assisted housing units to determine the defects present in, and unmet needs imposed by, their physical dwelling spaces. The information was gathered via a questionnaire administered by an interviewer, and covered topics including facilities and space, crowding, storage, noise, trash disposal, ventilation, and other issues.

This report is part of the collection of scanned historical documents available to the public.