The Location of Worst Case Needs in the Late 1980s: A Report to Congress
Release Date:
December 1992 (39 pages)
Posted Date:
December 10, 2020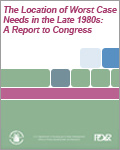 This historic report, prepared by HUD's Office of Policy Development and Research for use by Congress, details the acute housing needs experienced by some 2.8 million unassisted, very low-income renter households around the country between 1987 and 1990. These households lived in the 44 metropolitan statistical areas surveyed by the U.S. Census Bureau's American Housing Survey and experienced priority problems including paying more than 50 percent of their income on rent and utilities, being displaced, or living in severely substandard housing.

This report is part of the collection of scanned historical documents available to the public.

This report is part of the collection of Affordable Housing & Worst Case Needs Reports to Congress reports.
Click here to access the latest report in this series.