The Low Rent Program: 1934 Through 1957
Release Date:
January 1958 (23 pages)
Posted Date:
July 2, 2020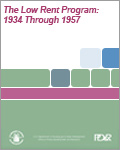 This historic report, prepared by the Statistics Branch of the Housing and Home Finance Agency, details the history of federal low-rent housing in the U.S. from 1934 to 1957. The report discusses relevant affordable housing legislation, involved agencies, and notable programs.

This report is part of the collection of scanned historical documents available to the public.