The Rent Certificate Plan
Release Date:
September 1944 (16 pages)
Posted Date:
July 2, 2020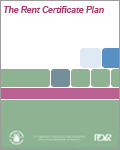 This historic report, prepared by the Joint Committee on Housing and Welfare of the National Association of Housing Officials, describes and comments on a contemporary proposal to replace public housing with public assistance rent relief grants issued to low-income families. The report compares the outcomes, costs, and goals of extent public housing programs with the possible costs and goals of a rent relief program.

This report is part of the collection of scanned historical documents available to the public.