The Tennessee River Valley
Release Date:
Januray 1960 (25 pages)
Posted Date:
July 25, 2021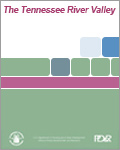 This historic publication is the first of two cases submitted to the 1960 World Planning and Housing Congress. This first publication focuses on the River Development Program of the Tennessee Valley Authority and was meant to provide value and applicability to other countries on the importance of physical planning in relation to economic development.

This report is part of the collection of scanned historical documents available to the public.