Total School Energy Management Program
Release Date:
March 1980 (98 pages)
Posted Date:
July 9, 2019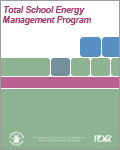 This historic publication, prepared by Energy Education Programs for the U.S. Department of Energy, is an informational package addressing energy conservation in school districts. The guide was written for use by school administrators and discusses means of conserving electricity, managing facilities, managing transportation, and seeking out additional publications on these topics.

This report is part of the collection of scanned historical documents available to the public.