Training Guide: Rehabilitation in Urban Renewal Areas
Release Date:
December 1964 (44 pages)
Posted Date:
November 18, 2019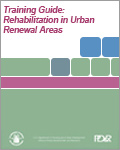 Prepared by the Office of the Assistant Commissioner for Multifamily Housing, this historical guide discusses the procedural aspects of undertaking urban renewal. The document provides outlines and flowcharts to supplement the Federal Housing Administration's underwriting manuals.

This report is part of the collection of scanned historical documents available to the public.