Internal Operating Procedure
Release Date:
August 1964 (210 pages)
Posted Date:
August 7, 2018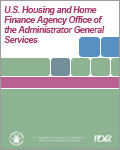 This manual stipulates the internal operating procedures for various branches of the Housing and Home Finance Agency, in the year before it was succeeded by the U.S. Department of Housing and Urban Development. Four branches existed under the Office of the Director: the Printing and Reproduction Branch, the Records Management Branch, the Property Management Branch, and the Library Branch.

This report is part of the collection of scanned historical documents available to the public.