Private and Voluntary Sector Involvement in Urban Recreation
Release Date:
January 1979 (33 pages)
Posted Date:
May 13, 2019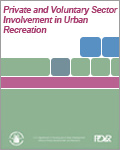 This historic publication is part of a series of information bulletins produced by the Community and Economic Development Taskforce of the Urban Consortium. The series provides non-technical discussion of community development topics from the perspective of local governments. This bulletin addresses partnerships between public park and recreation agencies and non-governmental agencies.

This report is part of the collection of scanned historical documents available to the public.