Use of Ductless Mini-Split Electric Heat Pumps in Residences, Phase I: Review and Assessments
Release Date:
April 1933 (50 pages)
Posted Date:
January 14, 2021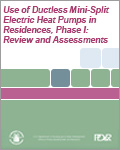 This historic report, the first of a two-part series, addresses the use of ductless electric heat pumps for the heating and air conditioning of new homes, and records information about the types, intended applications, and costs of available ductless systems. This report records the results of six experimental installations of such systems in Atlanta, Houston, San Francisco, Philadelphia, Tampa, and Washington, D.C.

This report is part of the collection of scanned historical documents available to the public.