Use of Ductless Mini-Split Electric Heat Pumps in Residences, Phase II: Final Report
Release Date:
July 1994 (66 pages)
Posted Date:
January 14, 2021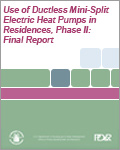 This historic report, the second in a two-part series, addresses the use of ductless electric heat pumps for the heating and air conditioning of new homes, and records information about the types, intended applications, and costs of available ductless systems. This report compares the lifetime performance of various makes of ductless electrical heat pump to a conventional forced-air HVAC system.

This report is part of the collection of scanned historical documents available to the public.