Vacancy Duration and Housing Market Condition
Release Date:
January 1978 (78 pages)
Posted Date:
January 21, 2021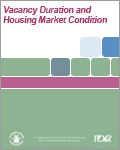 This historic note describes an alternate measure of housing market vacancy used in the Housing Assistance Supply Experiment, a 10-year research experiment conducted by the Rand Corporation on behalf of HUD in the housing markets of Green Bay, Wisconsin and South Bend, Indiana. During the experiment, a non-profit housing allowance office offered monthly cash payments to low-income households in order to either obtain decent housing or offset the cost of their existing housing arrangements, provided participant households kept their lodgings to certain standards and submitted to inspections. From 1974 – 1980, enrollment was open to all low-income households across the nation, and the experiment ultimately made payments to 20,000 households. The comprehensive findings, titled "Experimenting with Housing Allowances," was published as a book.

This report is part of the collection of scanned historical documents available to the public.