Victory Gardens for Tenants of Housing Projects
Release Date:
March 1943 (12 pages)
Posted Date:
June 23, 2020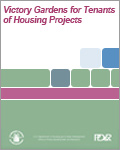 This historic bulletin provides instruction to FPHA housing project managers regarding the planning, installation, and maintenance of victory gardens. The publication also details appropriate crops for such gardens, and provides instruction on planting, harvesting, and storing the resulting vegetables.

This report is part of the collection of scanned historical documents available to the public.