What Tenants Should Know of the Conservation of Utilities, the Protection, Care and Use of Equipment, Interiors and Furniture
Release Date:
March 1945 (24 pages)
Posted Date:
June 16, 2020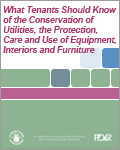 This historic bulletin advises local managers of assisted and war housing projects of tenant best practices regarding utility conservation and appropriate uses of furnishings. The document discusses the conservation of fuel, electricity, gas, ice, and water, and the proper usage of stoves, plumbing fixtures, refrigerators, and electric lights. Additionally, the publication provides instruction on the care and cleaning of furnishings and fixtures.

This report is part of the collection of scanned historical documents available to the public.