What the Housing Act Can Do for Your City
Release Date:
November 1938 (99 pages)
Posted Date:
January 14, 2021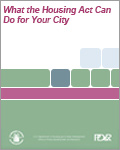 This historic document is an explanatory text introducing the then-year-old U.S. Housing Authority (USHA) and its functions. The USHA was a federal agency established within the Department of the Interior by the Housing Act of 1937, and was primarily concerned with assisting local housing authorities in effecting slum clearance programs, erecting public housing projects, and undertaking other housing-related public works.

This report is part of the collection of scanned historical documents available to the public.