Residential Rehabilitation Inspection Guide
Release Date:
February 2000 (162 pages)
Posted Date:
April 25, 2006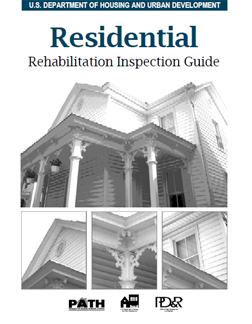 An important factor in making the best use of our nation's housing stock is accurately assessing the condition, safety, usefulness, and rehabilitation potential of older residential buildings. The Residential Rehabilitation Inspection Guide provides step-by-step technical information for evaluating a residential building's site, exterior, interior, and structural, electrical, plumbing, and HVAC systems.
First published by the U.S. Department of Housing and Urban Development in 1984 as the Guideline on Residential Building Systems Inspection, the guideline has found widespread use and acceptance among architects, engineers, builders, realtors, and preservationists.
Now, for the Partnership for Advancing Technology in Housing (PATH) program, the guideline has been updated and expanded to include current assessment techniques and standards, information about additional building materials, and a broader coverage of haz-ardous substances and the effects of earthquakes, wind, and floods. HUD is pleased to reissue this important and time-tested publication, knowing that it will prove a valuable resource for preserving and reusing our nation's building stock.