Development Controls For Manufactured Housing
Release Date:
June 1983 (41 Pages)
Posted Date:
February 21, 2018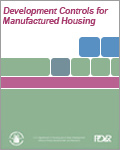 This historical working paper, prepared for the Joint Center for Urban Studies of MIT and Harvard University, presents a framework for devising and implementing development controls for manufactured housing. The publication also assesses the legislative, administrative, and judicial treatment of manufactured housing.

This report is part of the collection of scanned historical documents available to the public.