The Human Side of Dormitory Operations: Discussion Material Based on the YWCA Dormitory Study
Release Date:
May 1945 (28 pages)
Posted Date:
March 23, 2020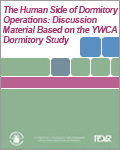 This historic bulletin was issued for the use of housing managers and other staff involved in overseeing the operation of dormitories housing female workers at industries involved in the World War II war effort. The publication describes means for encouraging resident self-organization, the duties and benefits of an on-site counselor, and various approaches to improving conditions on the campus. The information in this publication was derived from a study conducted by the National Board of the YWCA in the summer of 1944.
This manual describes the policies and procedures governing the requisition of development and modernization funds by public and Indian housing authorities under the Rapid Housing Payment System. The publication was developed for the use of program participants and departmental staff.

This report is part of the collection of scanned historical documents available to the public.