Modern Housing: A Review of Present Housing Requirements in Gt. Britain, a Resume of Post-War Housing at Home and Abroad, and Some Practical Suggestions for Future Housing
Release Date:
Janaury 1931 (67 pages)
Posted Date:
March 5, 2020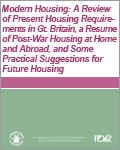 This historic book, written by British architect John R.H. McDonald, discusses the state of the existing housing stock in several countries in the years after World War I and provides recommendations for improvements. McDonald examines housing in England, Scotland, France, Belgium, Holland, Germany, Vienna, and the United States, and additionally records innovations showcased at events such as the 1927 Stuttgart Exhibition. The text, which includes photographs of contemporary buildings, also addresses architectural considerations for hospitals and schools.

This report is part of the collection of scanned historical documents available to the public.