PHA Management Manual
Release Date:
February 1960 (22 Pages)
Posted Date:
February 21, 2018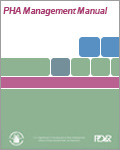 This publication is a manual outlining procedures and requirements for public housing authorities engaged in the operation of Federally Aided Low-Rent Public Housing. The document addresses general administration, operating budgets, requirements related to tenant eligibility, and miscellaneous record-keeping and reporting requirements.

This report is part of the collection of scanned historical documents available to the public.