Preliminary Housing Memoranda Nos, I, II, III, IV
Release Date:
August 1947 (178 Pages)
Posted Date:
February 21, 2018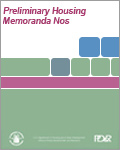 This 1947 document is composed of four preliminary housing memoranda prepared by the Federal Housing Administration. The memoranda communicate the state of the national housing stock and the post-war housing shortage.

This report is part of the collection of scanned historical documents available to the public.