Questions And Answers On CMP As It Affects Home Building
Release Date:
May 1952 (13 Pages)
Posted Date:
February 21, 2018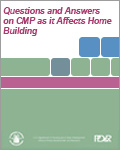 This document, prepared by the Housing and Home Finance Agency, explains two 1952 regulations affecting residential construction: National Production Administration Order M–100 and Revised Controlled Materials Plan Regulation 6. These two regulations set forth limitations on the construction of certain residential buildings that used materials or supplies regulated by a Controlled Materials Plan.

This report is part of the collection of scanned historical documents available to the public.