Reorganization Plan No. 3 Of 1947
Release Date:
May 1947 (5 Pages)
Posted Date:
February 21, 2018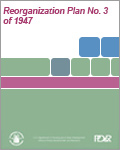 This publication is a record of President Harry S. Truman's 1947 address, "Message from the President of the United States Transmitting Reorganization Plan No. 3 of 1947," delivered to the Congressional Committee on Expenditures in the Executive Departments. The reorganization plan pertains solely to housing, and was prepared in accordance with the Reorganization Act of 1945.

This report is part of the collection of scanned historical documents available to the public.